Why Tanzania is Thomson's #1 Choice for Safari
Travelers often ask us, "Why do you only lead safaris in Tanzania?" Our answer is simple: "Because the African savanna comes alive here like nowhere else."
Maybe it's the soul-stirring thrill of seeing lions, leopards and elephants in their natural habitats. Maybe it's the timeless charm of the acacia plains, where the Big Five wander and millions of wildebeest roam.
Whatever it is, it's been calling us back to Tanzania, and only Tanzania, since 1981. Nowhere else can so consistently surprise, enchant and inspire us; we've experienced things here that will echo in our hearts forever.
Here's why we never have, and never will, get enough Tanzania.
95% of the Great Migration Occurs in Tanzania
The thunder of galloping wildebeest hooves tends to leave a strong impression on guests. So strong, in fact, they tell us they'll remember the sound forever!
In Tanzania, that thunder strikes often, as 2 million (yes, million) hooved animals roam the savanna in pursuit of the rains.
Because 95% of the Great Migration occurs here, you get all its greatest hits: the cute babies of the calving season, exciting standoffs during the rut and hair-raising, heart-stopping river crossings along the Mara River.
If only we could migrate ourselves to Tanzania right now…
Lions, Lions, Lions, Lions, Lions….
Lions are everywhere in Tanzania's national parks. The Serengeti is known as "big cat country" because it's jam-packed with over 3,000 of them!
An additional 12,000 are scattered across the rest of the country, meaning Tanzania has more lions than Kenya, South Africa, Botswana, Zimbabwe and Namibia combined.
Postcard-Perfect Savannas
When you dream of Africa, do you see towers of giraffes wandering across a sun-soaked horizon? Do you hear the scrubland's symphony of roars and tweets and galloping hoofbeats? Do you imagine lions prowling, leopards lounging and birds fluttering and flying?
If so, good news! That's the real Tanzania: a warm haven of flora and fauna that stuns the senses and takes the breath away; it even smells nice (like a smoky bonfire). Nowhere else in Africa awakens the spirit and charges the soul quite like these beauty-packed plains.
Because of its position near the equator, Tanzania doesn't experience the extreme weather patterns that southernly safari parks experience. Sure, some areas of the country get chillier at night, given their higher elevation, but that makes the midday heat so much sweeter.
Eye Spy the Big Five
Lion, leopard, elephant, black rhino and African buffalo: These are the "Big Five," and Tanzania has Africa's largest populations of all of them.
Some of these all-stars are easy to spot–looking at you, elephants–while others (black rhinos and leopards) can be a little shy. But with the right guides and a little luck, you'll get to see every animal at least once!
No Fences. No Pens. No Zoo.
In Tanzania, the animals roam freely from park to park, following ancient migration patterns with nary a fence in their way–a rare feat in modern Africa. Because nothing is closed off, you get to see wildlife in their authentic environments, as it should be.
That's a big difference from safari parks in places like South Africa (or almost anywhere else), where the wildlife lives in vast, but fenced, enclosures.
Tanzania Has the World's Highest Density of Mammals per Square Mile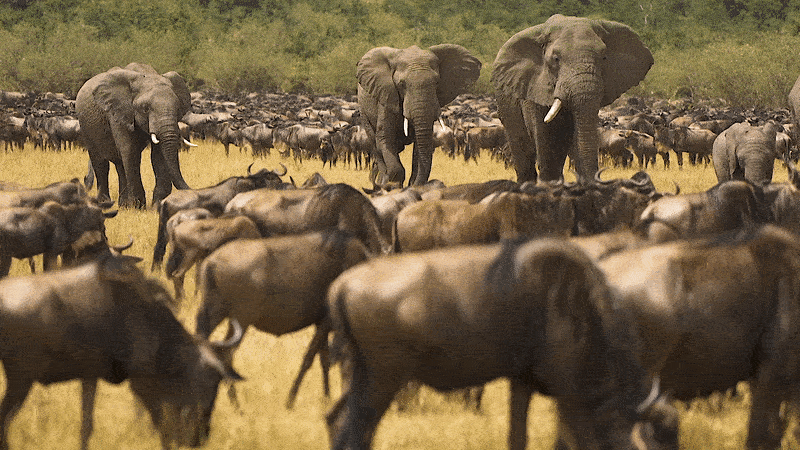 The census is in: Tanzania is home to 2 million wildebeest, 900,000 gazelles, 300,000 zebras, 60,000 elephants, 15,000 lions…
Basically, Tanzania's wildlife populations are staggering. It's estimated that 4 million wild animals reside here.
Approximately 25,000 of them live in Ngorongoro Crater alone–that's almost 250 animals per square mile!
Glamp Life is Incredible in Tanzania
In the 1980s, when safari travel was in its infancy, the term "camping" was code for "roughing it." Travelers could expect tiny A-frame tents and sleeping bags on the ground. Intrepid? Yes. Comfortable? Not so much.
In the decades since, our founders Rick and Judi have perfected the art of safari camping–now, when you close your eyes, you get the thrill of the outdoors with an unrivaled dedication to comfort.
All Thomson camps are deeply immersed in the bush, yet they offer queen-size beds, private en suite bathrooms and private showers with hot water. You can charge your devices in the lounge tent, sip a sundowner on your veranda or trade stories by the campfire.
Because you're sleeping in the same environments the wildlife sleeps in, your safari is immersive (and exclusive to Thomson guests) from start to finish.
From A-frame tents to walk-in glamping accommodations…talk about a glow-up!