Exploring Tanzania and Beyond with Paul Joynson-Hicks
Whether you consider yourself an amateur photographer or a seasoned professional, Thomson's photography safaris are for you. With landscapes and wildlife as breathtaking as Tanzania, great photos practically take themselves. But, of course, you'll need someone leading the pack, inspiring and teaching you every step along the way. This is where award-winning wildlife photographer Paul Joynson-Hicks comes in.
His charisma and passion for photography make him a favorite amongst guests. Not only is Joynson-Hicks fluent in Swahili, he is a Tanzanian citizen and has an insightful perception of local cultures. We sat down with Joynson-Hicks to talk about what inspires him, along with what you can expect on a Thomson photo safari.
Question: How old were you when you took an interest in photography?
Paul Joynson-Hicks: I first started taking pictures with an old 110 format film camera when I was about 10 years old and carried it on through school. After leaving school at 18, I immediately got a job as a photographic assistant to a fashion photographer in central London. This was a great, fun time; it was hugely glamorous and hard work, and of course, all film-based.
Q: Do you recall what originally sparked your interest in wildlife photography?
PJH: I was a professional travel photographer for many years in Africa doing books, articles and commercial travel work until I eventually realized that I really wanted to focus on wildlife photography. It's something about the beauty, character and never really knowing what you are going to see or find to photograph which makes it very exciting.
Joynson-Hicks's fate was sealed after moving to Africa in 1993 to work on a Ugandan travel book. He then made his way to Tanzania in 1997, where he still lives, dedicating his life to the African wildlife and the conservation efforts surrounding it.
One of Paul's images was included in Remembering Lions, a series of books featuring world-class photography to raise awareness for wildlife conservation.
Q: How did you come up for the idea of the Comedy Wildlife Photography Awards and how do the conservation efforts fold in?
PJH: I am a passionate conservationist, so I see a lot of imagery surrounding this topic, which is pretty grim. Dead rhinos, slaughtered elephants, you know what I mean.
I thought it would be a fun idea to come up with something which attracted attention and pushed the conservation message, but with humor and positivity instead of the constant negative messaging we hear all around us. So, I created the Comedy Wildlife Photography Awards. The idea is to attract media attention and through this, sell our message of conservation as much as possible.
Q: What times of year do you recommend for safari in Tanzania?
PJH: Great question! I am hopeless in answering this, as it is amazing all year-round. But OK, I will focus on the Serengeti:
Starting with January through March, this is a great time to be in the southern Serengeti for wildebeest calving season. You will see hundreds of thousands of wildebeest on the southern short grass plains. With over 4,000 calves born daily, you could even get really lucky and see one being born.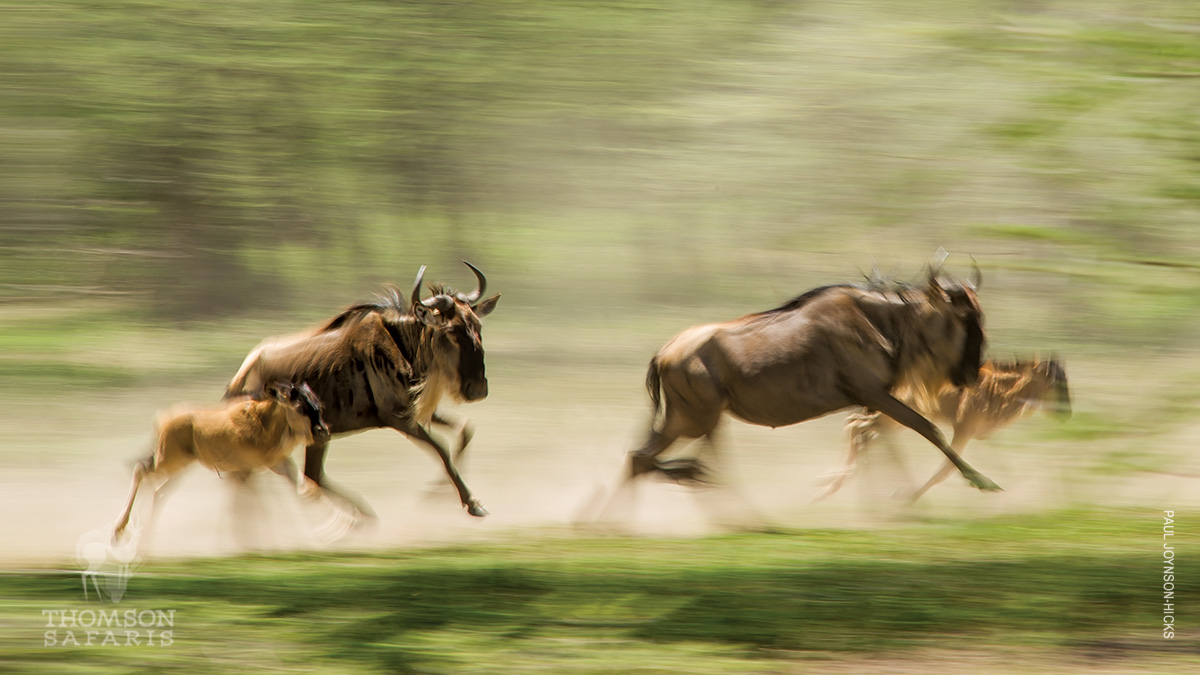 The long rains fall during April and May. Although it can be very wet, the Serengeti is almost empty of people, so you can have amazing wildlife sightings with no other vehicles (a real bonus). This is when I do my personal camping trips with my family.
June is also a good month, as it is just before the big rush of July and August. If you're lucky, you can see some migration in the western part of the Serengeti. Plus, the weather should be getting cooler, too.
July and August are peak months for guests. It is also a great time to be in the Serengeti, as it is already getting dry, so the wildlife congregates around the water sources, providing some amazing spectacles. The river crossings of the migration have also started in the northern part, so it is worth going for that.
September and October represent the end of the river crossing season, so this is a great time to go up north. This is also a great time in the central and southern Serengeti. It is very dry, so the wildlife is even more focused around the water holes.
Short rains come in November, so similarly to April and May, this is a nice time to visit, as few people are around.
December can be busy, but always a fun time to be there.
Q: Tell us about some standout moments with Thomson Safaris:
PJH: Every safari I have ever been on has stand out moments, so I would bore you to sleep if I even started going through them here, but a couple come to mind immediately:
Safari experiences range from a magnificent melanistic Augur buzzard, which we saw in the Ndutu area of the Serengeti. I had never seen one before and it is a hugely rare bird to see, which was very exciting to me.
Another time, we saw a caracal. This is a fabulous medium-size cat with pointy, tufted ears – also so rare to see. We stayed with her for a few minutes, while she wandered around looking for some shade. Again, the photos were amazing, but it's often the sightings that make it.
On another safari, we heard there was a leopard on a rock, so we headed off and found it playing with her cub. We got some amazing images here, then the female leopard started acting strange and the cub went up the rocks. We then saw some lions approaching, so the leopard ran off up the rocks. At the top of the kopje, she got attacked by a giant eagle owl. The poor thing was being harassed by lions and attacked by a huge angry owl. We got some amazing images from this experience.
I love all the different elements of the Thomson safari. The cars are great, big sturdy but comfortable land rovers that are good at not getting stuck in the mud, the camps are also lovely with great character and very comfortable. Finally, the guides are amazing, wonderful people, great fun and amazing wildlife knowledge. It can all happen. Join me and share it!
Q: What are your thoughts on your upcoming 2020 photo safari? Any advice for people thinking about joining?
PJH: When you are choosing a photo safari, you need to make sure that you aren't being herded into cars, everyone with just one seat, no space and perhaps being treated a little bit like cattle in a truck.
At Thomson Safaris, our photo safaris are extremely exclusive, without the exclusive price tag. You always have two seats to yourself, so you can shoot both sides of the car. We spend quality time at sightings and make sure that we are really invested in the sightings we see. We are also out very early to make sure we get the best light, as well as going back out in the afternoon to get the late afternoon sunlight.
I have lived in Africa for 25 years, speak the local language fluently and have gallons of safari and wildlife experience as well as being a professional photographer for all that time. Something you always need to check on, your guide! I am always available for email chats before the safari; even if you are just thinking about joining, please don't hesitate to get in touch so I can answer your questions.
Q: Is there a level of expertise/basic photo knowledge a guest needs to have for the photo safari?
Absolutely not. I would love anyone who is excited about photography to come on our photo safaris. Whether you have just picked up your first camera, are keen to know how to turn the thing on and haven't the faintest idea what an F stop is to the most experienced Camera Club Chairman, I love ensuring that everyone has an awesome time, as well as learns something new; from the very basics of photography to the most advanced techniques. It's all great fun.
Also, you must bring your spouse or partner to share the safari experience, even if they have absolutely no interest in photography whatsoever; our photo safaris are without doubt the best in the business. You have lots of space in the cars, no car overcrowding and we really invest time in wildlife, so it's a fantastic experience for your partner, with or without the photography interest.
Learn more about Thomson's Photography Safari with Paul Joynson-Hicks